Our Pay It Forward package arrived on Tuesday! Thank you so very much Melissa and Emmitt! We loved, loved, loved it!
It was assorted goodies - pug print, adress labels and a sheet with to do lists and one week plan. It also included a big bag of strawberry Twizzlers. It's a weakness of mine and I asked Melissa if she might include a bag when shipping our way (I'd pay the extra cost) but she kindly said it was her treat. It was among the few candies i liked when we lived in Canada (1994), I then had them again visiting in 2005 and then again in 2007. So it's not exactly something I eat every year. LOL! They're all gone by now.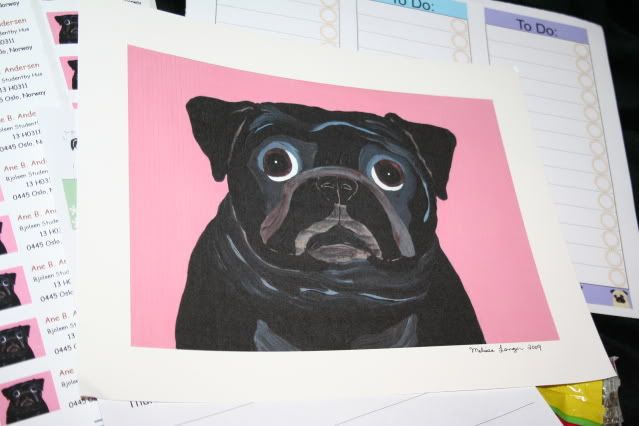 Close-up of the print. I'm heading off to Ikea now hoping to find a suitable frame for it! I'll show you when it's up on my wall!
So - now some of you can play! It's fun and easy!
The exchange focuses on doing an act of kindness without expecting anything in return other than that the recipient will, in their turn, pass the kindness along and 'pay it forward' in their own way.
So here is how it works...
The first 3 people who comment on this post and want to play, please
email me
your mailing address so that I may send you a surprise.
Then all you do is post a Pay It Forward Exchange on your blog, link back to us, and send the first 3 people to comment on your post a little surprise.
It does not have to be expensive, store bought or even handmade. It can be whatever you want to send to make someone smile.
----- Updated -----
I'm back home and the picture is framed!
Somehow a tiny drop of water got on the print, though.. It was raining a tiny bit when I walked home so I guess a drop must have hit the print when I took the frame out of the bag..
I am very annoyed with myself, but pretending it isn't there.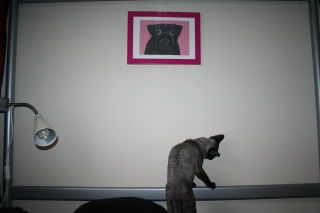 Virus was very curious when I hung it up!